Keeping Dory isn't simple
Keeping Dory isn't simple
After the release of "Finding Nemo," the clownfish gained in popularity for home aquariums, but the blue tang fish that features in "Finding Dory," might prove to expensive for most enthusiasts.
Blue tang cannot be breeded easily in captivity nor is it easy to care for.
"Although clownfish are now able to be bred in captivity, blue tangs have not been successfully bred in captivity," according to the Center of Biological Diversity. "Captive-bred blue tangs are not available for purchase for home aquariums."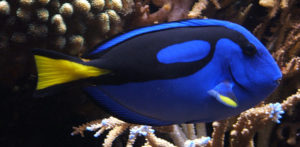 Blue tangs have complex needs that is not cheap to replicate in a home aquarium.
"If we were to do a set-up for a customer, the cost would be $10,000 for the blue tang to be properly cared for," said Jon Gordon, owner of TerraReef Aquariums in Wilmington, Delaware.
The $10,000 includes the glass tank, live coral, rocks, environment filter, a system to cool the water, a purify filter, etc.
It is not typical to put two blue tangs together, or any other fish. "Most of the time, they are going to fight with each other," Gordon said.
"People can literally love these beautiful fish to death, and we don't want to see that happen again," said Nicholas Whipps with the Center for Biological Diversity.
For more information, visit
http://www.biologicaldiversity.org/news/press_releases/2016/finding-dory-06-13-2016.html