2023 Staff
The stories on this site were done by students in the Schieffer Summer High School Journalism Camp. The two-week workshop is led by faculty, staff and students in the Department of Journalism at Texas Christian University with an assist from media professionals in the Dallas/Fort Worth market.
Camp Staff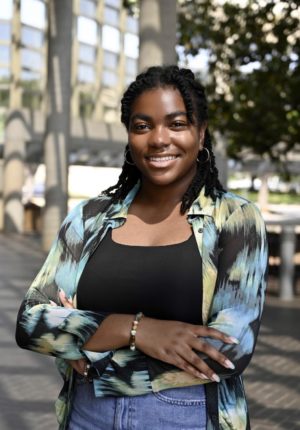 Madison Anderson, 15, is a rising junior at Longview High School in Longview, Texas. She said she came to camp because she wants to be productive, sociable and gain experience she can use later on in life. Madison said she works on her school yearbook and enjoys reporting and making page spreads. Additionally, she is involved in her school's UIL film program where she writes scripts, anchors the school news broadcast, produces short films and occasionally acts. In her free time she enjoys creating hair products, rollerskating, reading and journaling. However, she is most interested in pediatric psychology with a focus in journalism. Madison said she is grateful for all the doors that have opened as a result of her interest in journalism, and she can't wait to see where this experience takes her.
— Elie Brunson
Mirtala Barragan, 15, is a rising sophomore at J.B. Alexander High School in Laredo, Texas. Mirtala is a family name that has been passed down for four generations. She goes by the nickname Tala. She is on her school's volleyball team. Outside of school she loves to journal and hang out with friends or her dogs. She said the journalism camp is a chance to explore "the writing field and all the careers that involve writing because I love writing." Tala said she had no experience with journalism before the camp and wants to know more. She enjoys all genres of music, especially Taylor Swift. Barragan is the middle child with two brothers. She hopes to attend the University of Texas or Texas A&M.
— Summer Moreno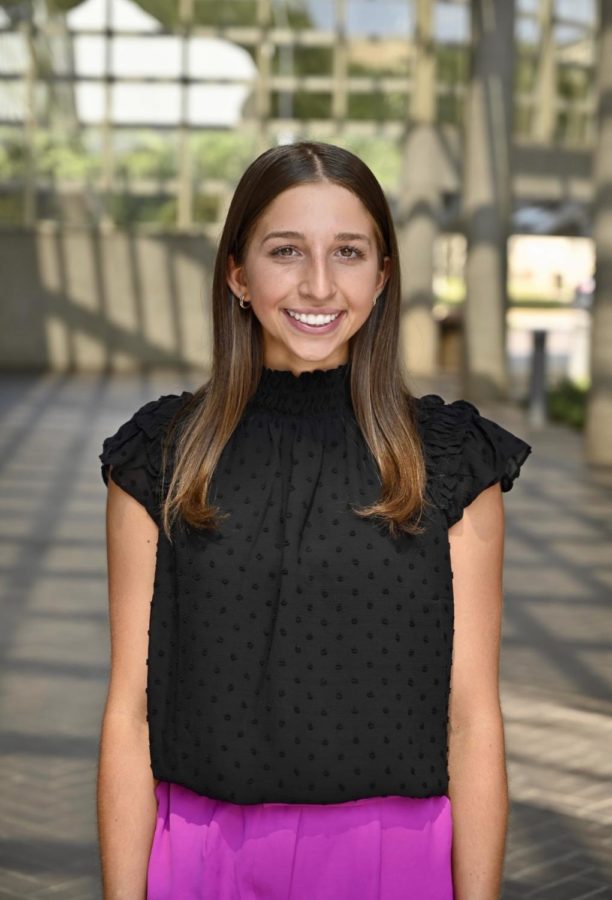 Macy Bayer, 17, is a rising senior at Muenster High School in Muenster, Texas.
She participates in a variety of sports, including basketball, track, cross country and most recently became captain of the cheer team. She has been to state to compete in the UIL spelling and vocabulary competitions.
From these experiences, she plans to attend TCU's journalism program. Her passion for journalism began at a young age when she watched the evening news with her parents. Macy has served as historian and secretary for her school's National Honor Society and has been class president for three consecutive years.
During her junior year, she was invited to join the North Central Texas College Honors. Her honors project focused on the mental and physical challenges of the Vietnam War. She interviewed veterans and wrote an essay on the topic.
Macy aims to be active in her community stating, "any opportunity is a good opportunity." Macy strives to be a nightly news anchor or a sports broadcaster. "I'm excited to be on the screen and in TCU purple," she said.
— Mia Estrada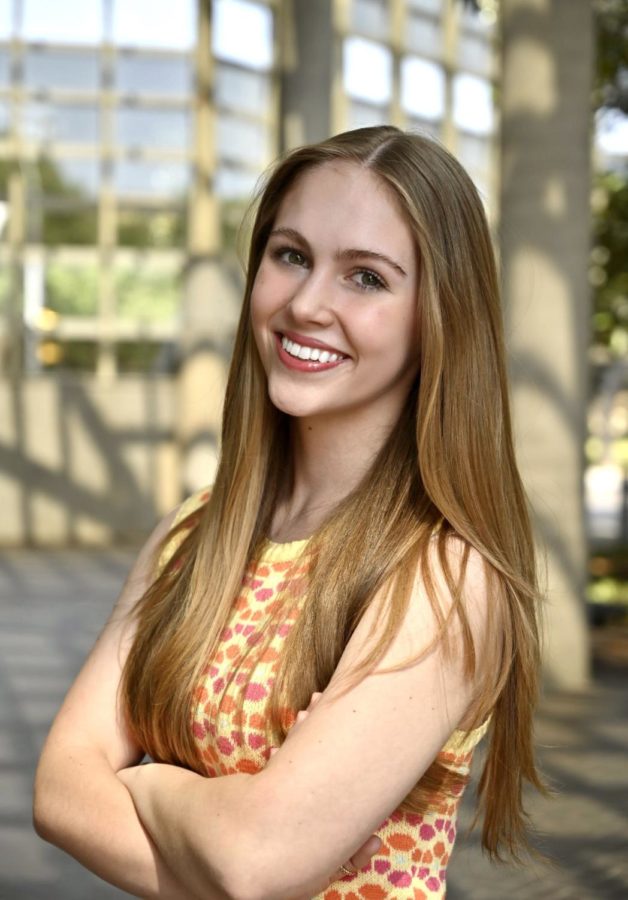 Elie Brunson, 17, is a rising senior at Stratford High School in Houston.
Working on the yearbook staff during her sophomore year sparked her passion for journalism, she said. In the fall, she will be managing editor. She will be in charge of proofing the captions, grammar, story flow and aid in creating the index. Writing and connecting to others with her stories are her favorite parts of journalism, she said.
Elie's hobbies include creative writing and guitar playing. In college, she plans to study journalism.
She said she came to the Schieffer Summer Journalism Camp to discover what her calling is in journalism. She said she wants to use journalism to make people feel like they are in the stories while also spreading a sense of hope in times of difficulty.
— Madison Anderson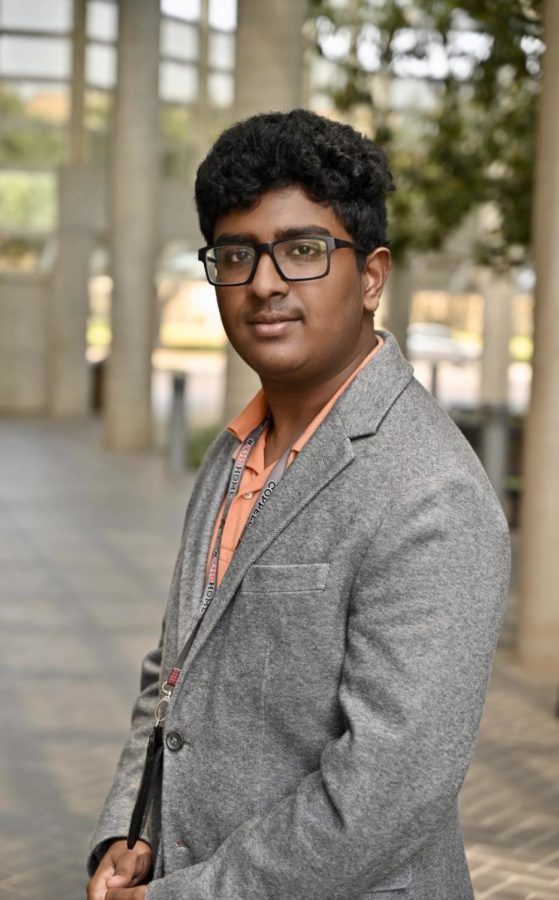 Dhruv Chitiprolu is a high school sophomore from Dallas.
Dhruv plays trombone for his school band and is a member of the film making club. He plans on playing trombone as a hobby after he graduates from Coppell High School in 2025.
Dhruv aspires to become a car influencer and reviewer on YouTube. His love for cars started when he started watching influencers such as Supercar Blondie and shows like Top Gear. Chitiprolu started his own YouTube channel, "Cars101," and has posted six videos. The channel has over 2,000 views.
Growing up in Dallas, Dhruv said he became fascinated with cars as he watched his family and neighbors collect luxury vehicles.
— Hannah Landa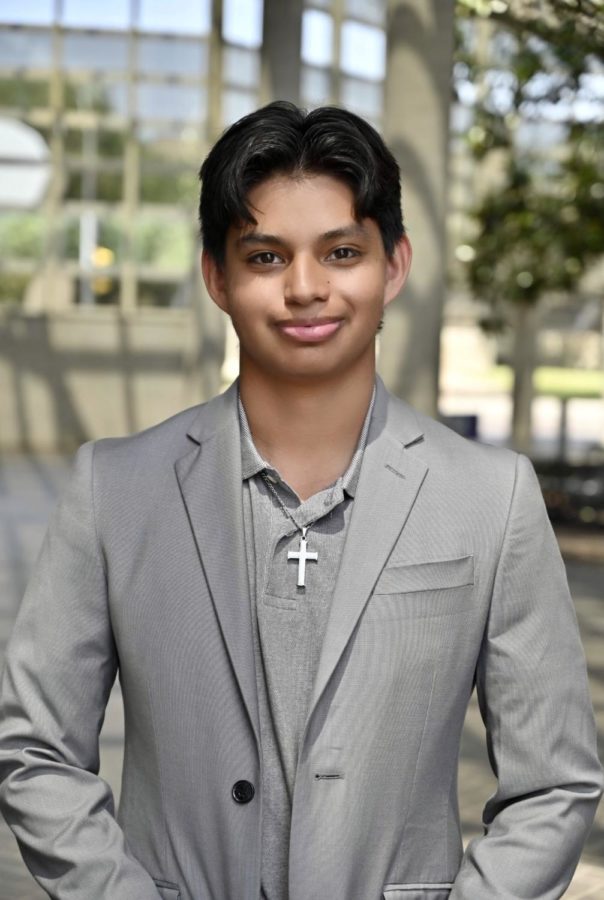 Sergio Dominguez, 17, is a rising senior at Idea Riverview High School in Brownsville, Texas.
He is a lead writer and editor for his school newspaper. He is interested in political journalism. He said he wants to report information to the people and spread his opinions and ideals.
As a political journalist Sergio said he hopes to cover international politics and spread his ideas on social media. He said his love for journalism was sparked during his AP Language and Composition.
"The way people articulate their words to convey an idea or message is very powerful, and it's something I aspire to replicate," he said.
— Dillion Hillard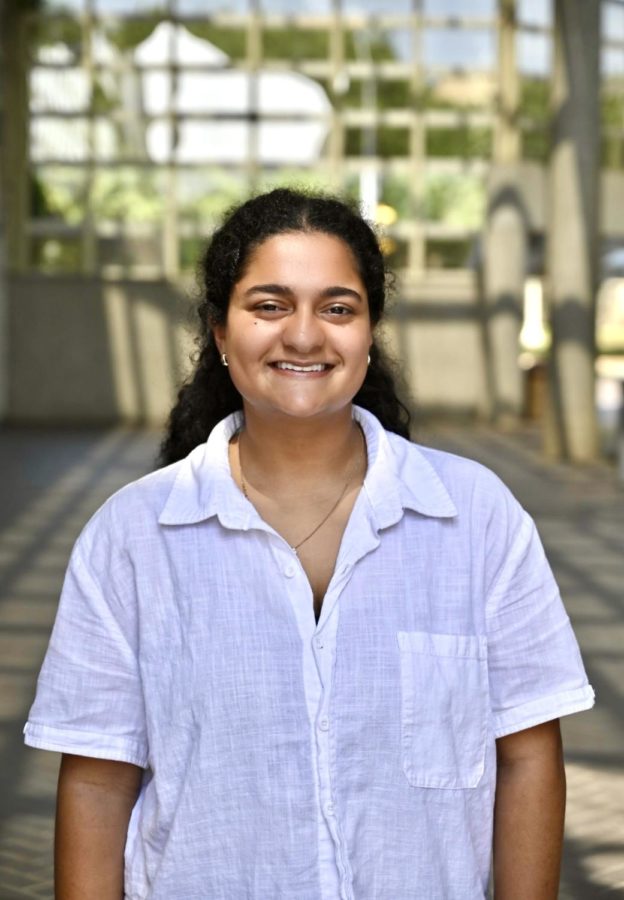 Sashah Elabd, 15, is a rising sophomore at College Station High School. She is involved in many extracurricular activities, including theater, cross-country, track and student council.
During her freshman year, Sashah was the executive of the Earth and Environment Committee, a student council program. In this role, she encouraged other members to help with recycling drives to increase their awareness.
Sashah's said her mother is a writer and that she encouraged her to attend this camp. Sashah said all of these activities are preparing her for life after high school. She said they push her out of her comfort zone and improve her leadership skills within the community. Broadcast journalists use these same skills, which is one area of journalism Sashah wants to pursue.
She is still deciding whether she wants to pursue written or broadcast journalism. Ultimately, her dream is to work for the New York Times. She said If she did pursue broadcasting, she would love to be in front of the camera rather than behind the scenes.
— Jorydn Hentz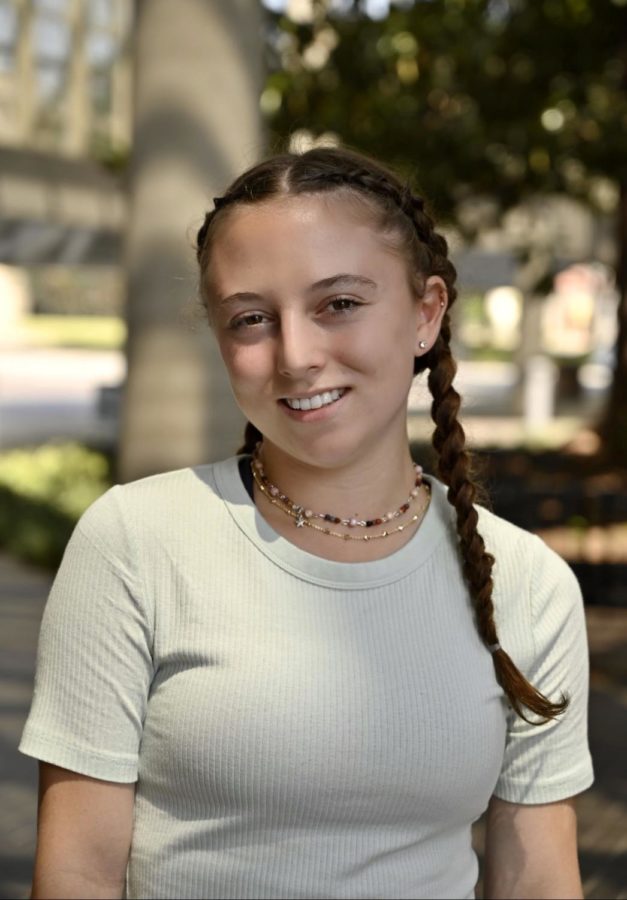 Mia Estrada, 15, is a rising sophomore at Westlake Academy in Trophy Club, Texas.
Estrada said she is honored to attend the 2023 Schieffer Summer Journalism Camp at TCU. She stated she looks forward to honing her writing skills and exploring whether she'd like to enter the field of journalism.
Estrada runs on her school's varsity cross country and track team; she is also editor-in-chief for the yearbook club. She said seeing a year's worth of effort come to fruition throughout the annual's pages is rewarding.
Estrada said she looks forward to capturing every moment and taking this experience back home with her to Trophy Club, Texas.
— Macy Bayer
Jordyn Hentz, 15, is a rising junior at Martin High School in Arlington, Texas.
Jordyn runs track, works on her school newspaper and participates in community service activities.
Jordyn said her father encouraged her to go to the Schieffer Summer Camp at TCU. She said her father is her biggest inspiration in life and he pushes her to be the best version of herself. She also has a little brother and sister.
Jordyn said she loves finding out interesting new things going on at her school, spreading awareness and providing a voice to those who don't have one.
"I love being someone's microphone," Jordyn said. "Advocating for others is important because it helps them advocate for themselves."
— Samantha Reimers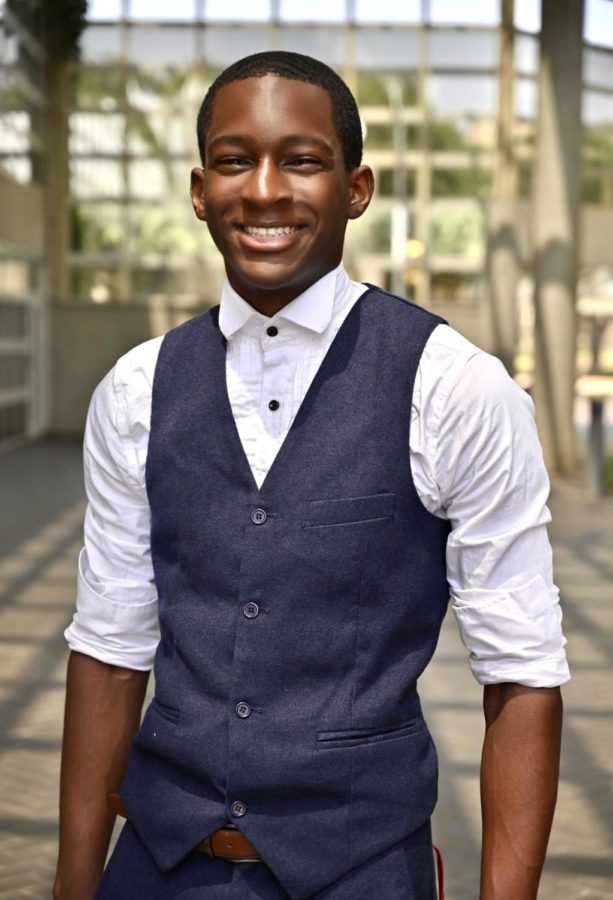 Dillion Hillard, 16, is a rising senior at Kinder HSPVA in Houston.
He will be editor of his high school newspaper in the fall. He said his passion for writing emerged while taking writing classes. He said he hopes attending the Schieffer Summer Journalism Camp at TCU will help him narrow down on his final choice on which type of journalism to pursue; he is leaning towards investigative journalism.
He said writing is important to him. He said a desire to publish the truth is what drives his passion. He hopes to be a part of exposing large companies that violate human rights.
— Sergio Dominguez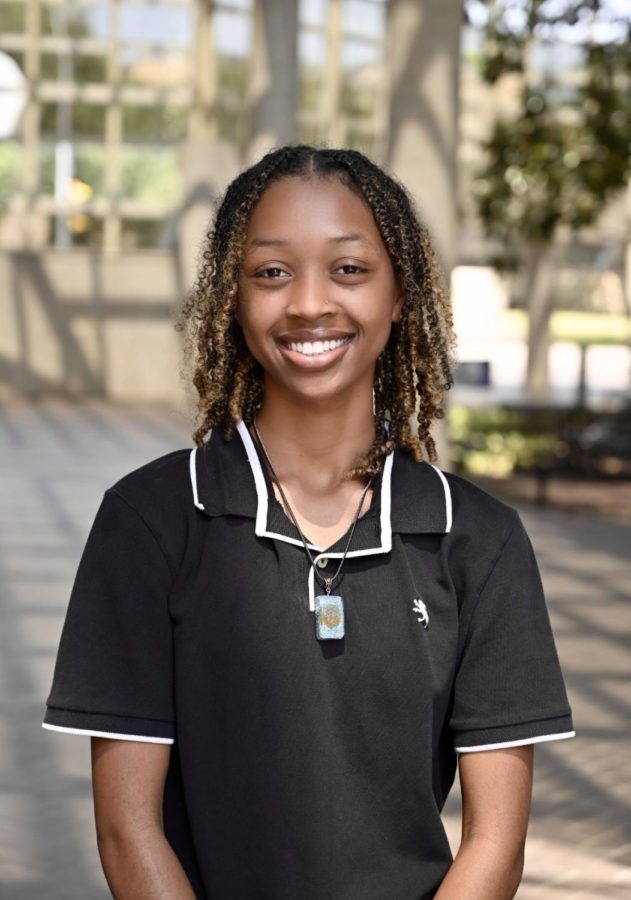 Elizabeth Kortum, 17, is a rising senior at Lamar High School in Houston.
Liz is a talkative person. She enjoys physical activities like basketball and racing with her mom, as well as playing the piano and the guitar.
Liz said she enjoys journalism and photography. She is a member of the National Honor Society. Her first introduction to writing was in 6th grade creative writing class. It prompted her to take the graphic design pathway going into high school. She took introduction to journalism her freshman year and wrote articles in her school magazine by sophomore year. Then she took photos for the magazine in junior year.
She said the journalism camp should give her the opportunity to improve and gain on her writing skills.
— Albany Murdock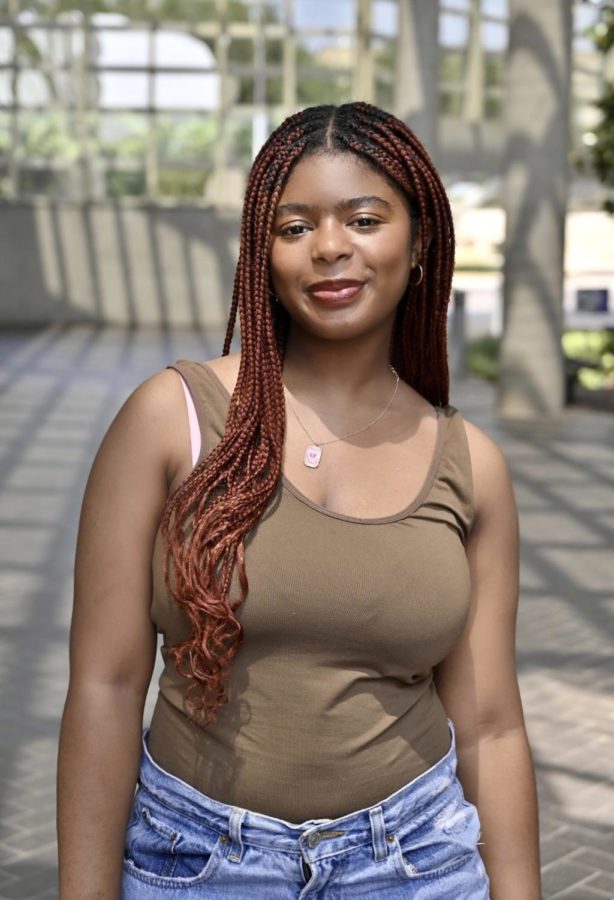 Jordan Miller, 16, is a rising senior at the Young Women's Leadership Academy of Fort Worth.
She was born in Philadelphia, but her family moved to Fort Worth when she was 3. Miller was co-captain of the YWLA cheerleading team. She plans on pursuing a career as a physician assistant. Working for the Boys & Girls Club of Greater Tarrant County, sparked an interest in pediatric medicine.
She said she applied to the TCU Schieffer Summer Journalism Camp to expand her knowledge in storytelling and broadcasting as well as explore other career options that may interest her. She spends the majority of her free time socializing with friends, watching television and baking.
— Jamere Thomas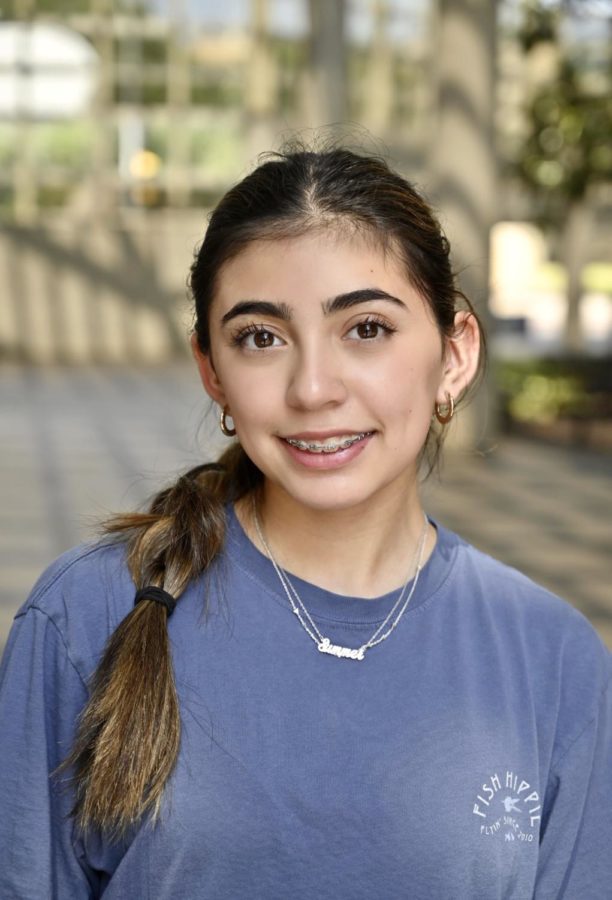 Summer Moreno, 16, is a rising junior at Shelton High School in Dallas. Shelton specializes in learning disabilities for her dyslexia.
She chose to apply for this summer program because she enjoys writing and wants to further explore journalism. She said she loves to write about fashion and would love to someday become a magazine editor or photographer for runway models.
Summer said playing the violin, hanging out with friends and dancing are among her favorite pastimes. She is the most passionate about dancing and is the captain of her school's dance team, the Chargerettes. She said she loves home cooked meals, listening to music and the color purple.
In the future, she hopes to attend Southern Methodist University or Texas Christian University and study to become a journalist.
— Mirtala Barragan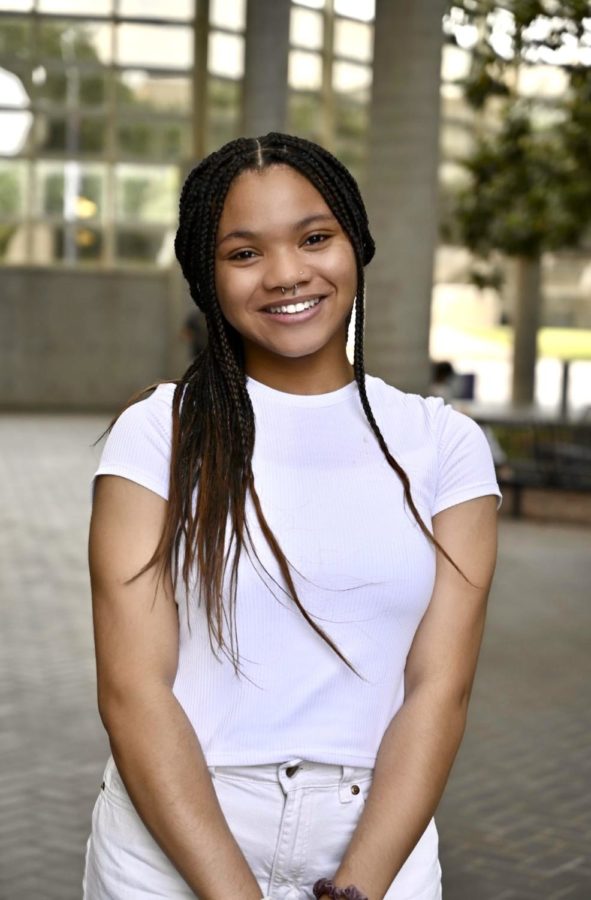 Albany Murdock, 16, is a rising junior at Westfield High School in Spring, Texas.
Her family moved to Houston in late 2021 from Georgia.
She came to the Bob Schieffer Journalism camp to try out something new and expand her knowledge and get more experience. She did several interviews and wrote articles about the different clubs in her high school journalism class.
Albany was also a part of the yearbook class and was responsible for managing and scheduling the interviews and photos that needed to be taken. In her free time, she loves to crochet, something she is interested in forming a club for at her school, and baking breads and cookies.
— Elizabeth Kortum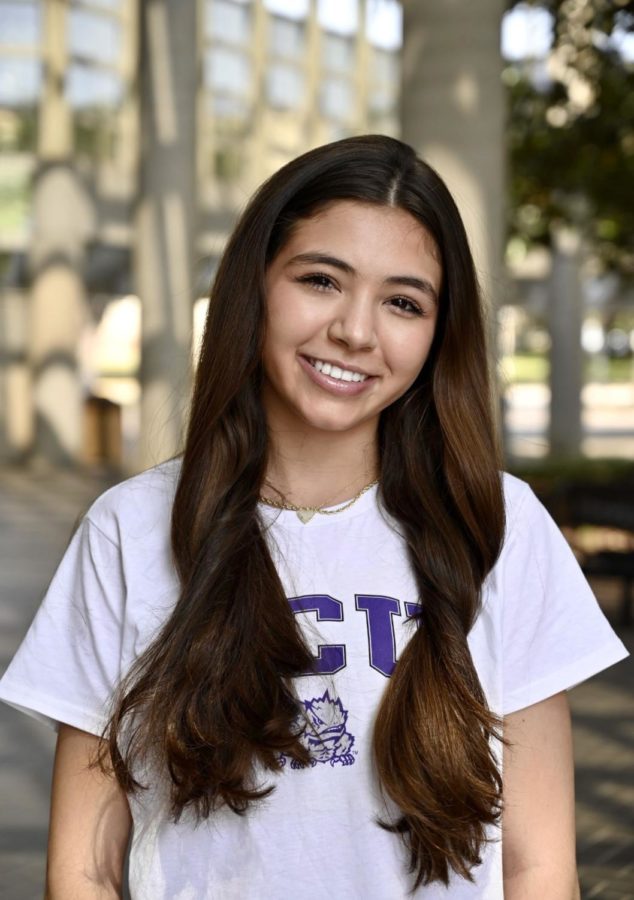 Alexandra Chase Sonsino, 17, is a rising senior at Episcopal High School in Houston.
She is involved in clubs such as dance, student council, student senate, Spanish and National Honor Society. She has leadership positions in her school dance pom team, SOS, a community service program, and the senior speakers club.
She said she wants to pursue something in the journalism field, but she's also interested in psychology and business. Alexandra said she spends most of her time in the dance studio choreographing dances for all ages and rehearsing with her competition team.
She hopes to immerse herself in a new environment at the TCU Schiffer Summer Journalism Camp, meeting new people and experiencing college life without the pressure of real school.
— Chloe Taylor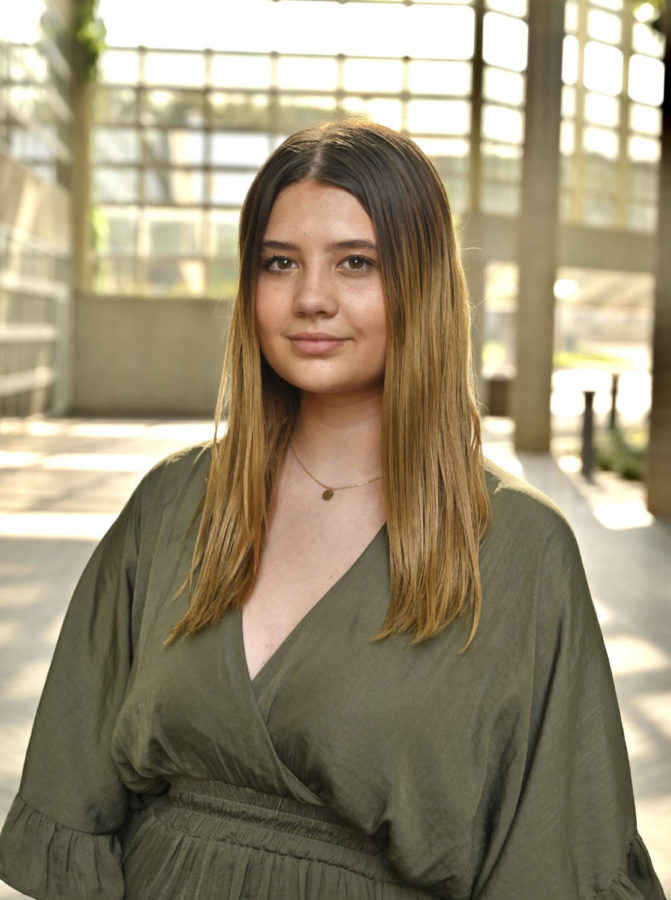 Samantha Reimers, 17, is a rising senior at Cy-Fair High School in Cypress, Texas.
She is involved in three National Honor Societies and serves as secretary for two clubs. She also plays tennis, volunteers and competes in journalism at UIL.
She enjoys shopping at thrift stores, reading and playing guitar. Samantha has an extensive love of music that includes a vinyl collection. She said her favorite is her grandmother's old single-track vinyl of "Let It Be" by the Beatles. She said she loves her farm-born grandmother, whom she affectionately calls Marmee, after the mother in "Little Women." Samantha said her grandmother encouraged her to apply to this camp.
She said she is not sure about pursuing journalism in college and that she hopes the camp can help her figure out what she wants out of college and life thereafter.
— Sashah Elabd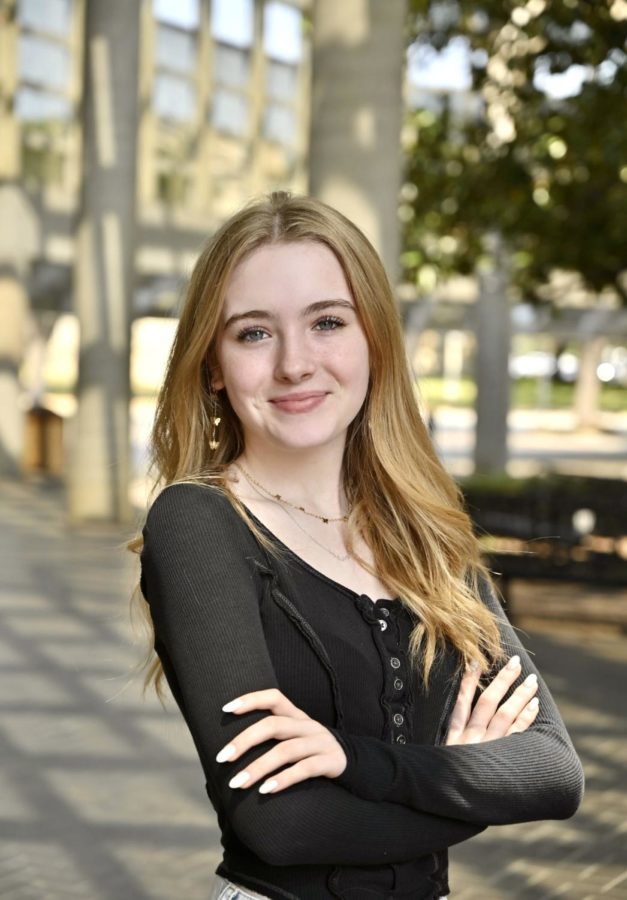 Chloe Taylor, 16, is a rising junior at JJ Pearce High School in Dallas.
She is very involved in audio visual production. She directs her school newscast, "Mustang News," and takes photos for the yearbook.
She is also her school's drill team social media manager and films all the football games. Taylor said she is an avid Adobe Premiere Pro user. She wants to do media work for the NFL and other sports leagues.
She said she hopes the TCU Journalism camp will give her a feel of the college experience and help prepare her for future opportunities.
— Alexandra Chase Sonsino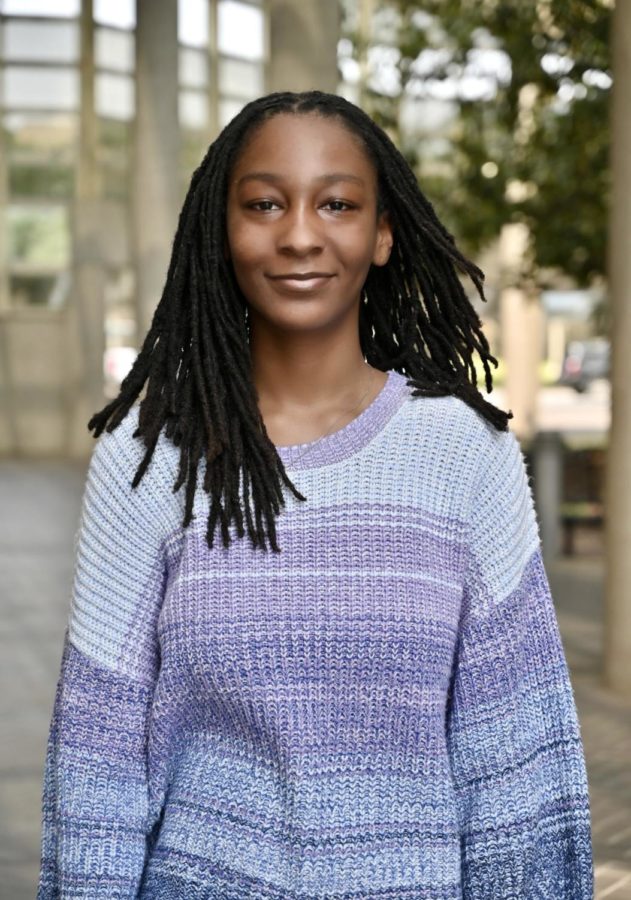 Jamere Thomas, 17, is a rising senior at Young Women's Leadership Academy in Fort Worth.
Jamere is the vice president in the Teen Advocacy Council through Girls Inc. of Tarrant County.
She said she participated in the Schieffer Summer Journalism Camp to expand her knowledge on writing and to gain experience within the realm of journalism and broadcasting.
Jamere enjoys playing video games, reading books and writing. She plans to study sociology and library sciences in her academic career.
— Jordan Miller
Counselors
The Schieffer Summer counselors are TCU students who are involved with Student Media. They stay with the campers throughout the entire two weeks, acting as mentors and chaperones.
Amelia Crowley, 21, is a senior at Texas Christian University majoring in journalism with a minor in Chinese. Crowley, who is from Long Island, New York, writes and produces video packages for The Leap, TCU 360's weekly pop culture show. She is also on the Chinese club board. After experiencing China through the eyes of a foreign exchange student in 10th grade, Crowley said she was inspired to spread the historic culture to fellow students at TCU.
Crowley said that she is making the most of her last summer by working as a counselor at the 2023 Schieffer Summer Journalism Camp.
When Crowley is not spending time with students or her fellow counselors, she is either curled up with a good read or her cat, Book. Crowley said she plans to study and work as an intern in Washington D.C. this upcoming fall semester. She hopes to work for the National Public Radio as an international reporter and live in Washington D.C.
— Macy Bayer
Chaelie DeJohn, 21, is a senior at Texas Christian University. DeJohn, who is from Little Rock, Ark., is double majoring in journalism and political science. She plans on attending law school but is unsure about where.
She said her interest in journalism comes from her passion for writing. She uses writing as a creative outlet and is able to use her journalism skills for her other interests. She is a law clerk at a criminal defense law firm where she assists attorneys on cases, does trial prep and interviews clients in jail.
She said she fell in love with TCU as soon as she stepped foot on the campus. She was also drawn to the happy community. DeJohn said her favorite memory at TCU was last year's football season and going to see the team play in the national championship. She has enjoyed being able to be a camp counselor at the Schieffer Summer camp. Her favorite part has been being with students and showing them how great TCU is.
— Alexandra Chase Sonsino
Walter Flanagin, 20, is a senior at Texas Christian University majoring in history and minoring in journalism. He plans on attending law school after graduation, enjoys mock trials, rock climbing and sci-fi books. Flanagin, who is from Conway, Ark., said he loves writing.
"The more you read, the more you can write," he said.
Flanagin said if he wasn't planning on attending law school, he would go to graduate school to prepare to be a professor. His family includes four younger sisters and a cat.
— Sashah Elabd
Hannah Landa, 20, is a journalism journalism at TCU. Landa, who is from Houston, wants to work in the digital media field as a content creator or broadcaster or work for a newspaper.
Hannah originally wanted to become an actress and work in the film industry, but was more interested in topics that were reported on the news both locally and globally. She also took yearbook and broadcasting courses in high school where she worked as people editor and senior producer. In addition, Hannah likes meeting new people, telling their stories and being well informed of things happening around her.
Hannah's hobbies are posting content on social media platforms like Pinterest and Instagram and writing food reviews on her blog. Also, her interests are content creation, journalism, cooking and trying new foods at restaurants.
— Dhruv Chitiprolu
Ethan Love, 21, is a senior at TCU double majoring in sports broadcasting and journalism. He works for TCU 360 as a copy editor, line editor and executive producer for Unscripted, TCU's sports talk show. He has also produced live baseball games for ESPN+. He was president of his high school class; as a Boy Scout, he achieved the rank of Eagle Scout. He wants to be a sports reporter for an NFL or MLB team, or a sports anchor on a national level.
— Dillion Hillard