Getting to nationals wasn't easy for the TCU equestrian team, as they ended the season with a 6-8 record. Despite the rocky start, the team ranked No. 6 heading into the National Collegiate Equestrian Association's National championship.
The team finished second at the NCEA's National Championship held from April 13th-16th in Waco, Texas.
According to equestrian member Molly Peddicord, the team set the record of being the lowest ranked team to make it to the final round of the NCEA championships.
TCU Equestrian brought riders from both types of equestrian: Western and Hunt Seat. Peddicord said that Western is divided into horsemanship and reigning, while Hunt Seat is divided into flat and jumping. Within each type, riders participate in various divisions, showing off spins and jumps while maintaining control on a horse.
During the championships, No. 6 TCU defeated No.11 New Mexico State, No. 3 Baylor and No. 2 Georgia before losing to top seeded Auburn, 8-7.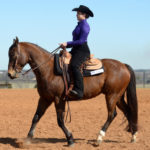 Behind the cowboy hats, riding helmets and riding boots is a lot of hard work and dedication. Equestrian riders prepare themselves and their horse for competitions. "We have to take into consideration not only ourselves, but also an unpredictable animal," said Megan McMullen, an equestrian rider.
TCU's equestrian team trains at Turning Point Ranch, which is about 45 minutes northwest of campus in Springtown, Texas. The facility includes two indoor arenas and two outdoor arenas, along with 36 horse stalls. TCU is one of the only schools with two arenas, differentiating the team from others around the country, said head coach Haley Schoolfield, who added she is already looking ahead to next season.
"We are planning to pick up right where we left off at the end of nationals, which should propel us to the top."