Brandon Finnegan made baseball history as the first player to pitch in the College World Series and the Major League Baseball World Series in the same year.
A first round draft pick for the Kansas City Royals, in June 2014 Finnegan played in the CWS and months later he was in the World Series. But Finnegan isn't TCU's only breakout baseball player.
Since starting in 2004, Head Coach Jim Schlossnagle has seen 67 players drafted. They include Finnegan, Cubs pitcher Jake Arrieta, and Cardinals infielder Matt Carpenter. This year, six TCU players were drafted.
"I'd be hard pressed to pick out a coach in college baseball who is better than Jim Schlossnagle," said Matt Jennings a TCU alumni who covered Horned Frog baseball and other sports for Rivals.com and Sports Illustrated's Campus Rush.
Standout freshman, Luken Baker chose TCU over last year's draft. As a senior in high school, Baker urged MLB: "Please don't waste a draft on me. I am going to TCU."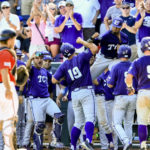 Jennings said Schlossnagle "has continued laying this program from almost nothing to being one of the best programs in the country and I would say that his record more than anything would speak volumes of who is he as a coach."
Schlossnagle also focuses on the player academics and athletic commitments.
"I think what you see out of players who come out of Jim Schlossnagle's program is they are the guys who are going to work harder than just about everybody else," Jennings said.