Cowboys beat reporter has dream job
Covering the Dallas Cowboys wasn't a dream for a long-time NFL writer for the Star-Telegram, but after nearly 20 years he couldn't see himself doing anything else.
Clarence Hill Jr. said he once wanted to be out on the football field, but found his true calling as a Dallas Cowboys beat writer.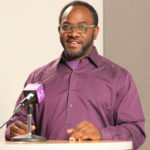 Hill spoke told students at the Schieffer Summer Journalism Camp that beat reporters focus on a specific issues or organizations over time. On a typical day, Hill said he attends a press conference, watches the Cowboys practice, takes notes, and interviews the coaches and players, before writing his blogs and stories.
He said he also maintains a high social media presence.
"I have to do blogs, shoot video, take pictures, do radio, and do podcasts."
Hill summed up his time covering the Cowboys into "two playoff wins, six coaches, countless scandals, controversies and unfulfilled expectations."
He said he also has to cover arrests, drug scandals, and deaths on top of features.
"Being a beat writer for the Cowboys is a beat writer on steroids because we have to do so much," he said.
He said while office hours are from 10 a.m. to 3 p.m., a reporter may not stop working until 10 at night. Hill has covered stories ranging from Terrell Owen's suicide attempt to Keith Davis's murder at a club.
Hill competes with local media like the Dallas Morning News, along with national media like ESPN.
"It keeps you on high alert," he said.
Hill graduated from the University of Texas at Austin and has written about the Cowboys since 1997.
He wrote a sports column for his high school newspaper. Still, he didn't see himself as a sports reporter.
"Your dreams don't turn out how you want them to be, they turn out how they are supposed to be."
Donate to TCU High School Journalism Workshop
Your donation will support the student journalists of Texas Christian University. Your contribution will allow us to purchase equipment and cover our annual website hosting costs.